Mona Lizzy's — 2610 Adams Ave — offering arts and craft activites
We are a small mom and pop business embracing the diversity of San Diego. Bringing together talented artists of all backgrounds to provide salon services, art classes and locally made goods and products to the community. Mona Lizzy's focus is on educating people of all ages in Art and thinking about our world in a new, more resourceful way. We retail locally made, hand crafted goods, housewares and accessories by artists.  Provide Art, Craft & Sewing classes for children and adults. Lastly, Mona Lizzy's provides salon services to a small clientele. Look around on our site, sign- up for an art class, shop at our online store, or come on in and visit us!
artFORM / Rare Hare Studio –3316B Adams Ave  – artFORM will be offering arts and crafts made from recycled materials.  It is $5 per bag of material to create and design exciting new things
The Rare Hare Studio offers art classes to children ages preschool through 8th grade, introducing a wide variety of materials and techniques.  Students are encouraged to explore supplies and tools freely, as well as to participate in guided lessons. Basic artistic elements such as line, shape, color, texture, form, space, and value, as well as design concepts, are discussed and practiced at appropriate grade levels. Study of these elements is further enhanced by an emphasis upon the use of patterns and rhythm in art. Taking note of patterns in the environment around us and how they can be interrelated is an integral part of this process.
We offer a truly unique mix of classes where participants can discover new things and yet build on what skills they may already have. Some students can draw very well, others may prefer to make sculpture or weave.  At Rare Hare Studio, many of our projects used mixed media, so participants are exposed to a wide range of materials and applications. We offer opportunities to develop existing skills, and introduce new skills in a comfortable, relaxed environment.  
Adams Ave Car Wash —
– Circus Mafia – 1:00 – Circus Mafia is a unique circus performance art collective that passionately seeks to promote physical education, induce laughter and inspire creativity in children and adults through object manipulation workshops, educational circus programs, themed entertainment, and improv skit comedy.
Circus Mafia is a professional, mobile entertainment company that offers specialty circus acts for the young and young at heart. With one-of-a-kind interactive stage performances, educational circus workshops,  themed children's entertainment and continuous guest entertainers, Circus Mafia seeks to create a memorable experience unlike any other at your next event!
Unity Mason Lodge — 3366 Adams Ave —
–  Giant Electric Giraffe, our yearly tall friend of Art Around Adams will be present to walk, talk, and light up.  He will offer plenty of energy to the mix, and now has glow-in-the-dark clothing available.
Based on Tamiya's little model of a walking giraffe, the Electric Giraffe is a life sized robotic giraffe that borrows this toy's walking mechanism. The 'Raffe actually walks, just like its small scaled design model, but towers
at 17 feet tall when its neck is raised. The main frame where people can ride is 8 feet off the ground, providing an impressive viewpoint of the surroundings. Though the beast appears to have wheeled feet, the giraffe actually walks on these wheels. The wheels are used to give it variable traction control, and more importantly, allow it to be winched up onto its trailer. At 1700 pounds, the giraffe is a real handful during this operation.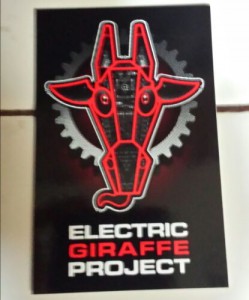 – The Super Awesome Showdown — A multi-media, hybrid performance arts event! Super Awesome Showdown-Intergalactic Combat brings to life fantastic-action packed stylized combat, special effects, popular music and epic adventure! Within the confides of the Intergalactic Battle Grid, Earths mightiest heroes and villains compete for the most prized possessions in the universe, the QUASAR QRYSTALS! Legend tells that the wielder of all 6 Qrystals has the ultimate power…these heroes and villains "settle the score" on planet Earth.
Adams Ave Community Park — 3491 Adams Ave —
– An interactive Community Mural will be taking place at the park.  Hosted by local artist, Rich Walker.  Bring your art imagination and join in.
– Big Hero 6 – Movies in the Park – starts at 7:30
Back from Tombuctou — 3564 Adams Ave —
Offering Mexican sugar skull making.  A long time tradition, sugar skulls can each have a unique quality, and you will have a good time creating one.                                     
Kensington Library Park — 4121 Adams Ave
– Rock and Roll San Diego Kids 12:00 — live performance
Rock and Roll San Diego is a music facility that supports musicians' every need. Musicians across all genres and generations count on us for group and private music lessons, rehearsal space, music recording, backline and instrument rentals, instrument and gear repair, video production services and more. On a daily basis we serve eager youngsters, nationally touring bands and everybody in between.
– Wizard of OZ performance exerts by SDCAP 3:00
SDCAP is Southern California's new hot spot for Professionally Directed Youth Theatre, and Conservatory Dance and Theatre, and Fitness Training. SDCAP is a newly formed non profit Performing Arts organization, invested in engaging, training, and inspiring students of all ages and backgrounds, who desire to grow artistically and confidently in the performing arts. SDCAP offers classes, camps, and performance opportunities for kids and adults, in Dance, Theatre, Voice, and Fitness. SDCAP inspires creativity, and create a positive impact on bringing arts to the community.
– Figment Booth – FIGMENT is a forum for the creation and display of participatory and interactive art by emerging artists across disciplines. FIGMENT began in July 2007 as a free, one-day participatory arts event on Governors Island in New York Harbor with over 2,600 participants. Since then, FIGMENT has grown significantly each year in number of projects, duration, participants, volunteers, fundraising capability, exhibitions, locations, overall level of commitment and participation, and public support.
GALLERY4204 / OAS (Center for Opportunity, Achievement, and Success)
Steve Oas, owner of OAS Center and Leslie Marchetti director of GALLERY4204 and project manager of newly renovated Adams Heritage Row 4202-4204 Adams Ave., will spearhead an outdoor art event (during Art Around Adams) for the community children to create two large murals that will beautify and later become a future endeavor to benefit a San Diego charity. One mural is for children under 10 years and the other for 11 to 16 years. All materials will be supplied. Please contact Jaymee at info@gallery4204.com or 619 213-2706 to pre-register your little artist so we reserve canvas space. Marchetti says "the concept was brought to my attention by Steve Oas. I thought it was a brilliant way to merge our two businesses, fine art and children services together with community involvement". The children's mural event called the "First Annual Kids Contribute Art" will begin at 12:30pm and end at 3:00pm at Adams Heritage Row 4204 Adams Ave.